Teen Weekend
November 8-10, 2019
YMCA Camp Greenville
Girl Scout Seniors & Ambassadors
Adventure is waiting...
high atop the Blue Ridge Mountains in the carolinas.
Does your troop crave adventure? Or are you looking for a mom-and-me getaway? Looking for a change of pace, to get off the beaten path, unplug from technology (there's no cell phone signal here), and get a new perspective - at 3000' elevation? Join us on the mountain for beautiful views, adventurous activities, new friends, and memories to last a lifetime.
In a jam-packed weekend, we'll provide activities led by professional outdoor staff, hot food served in the dining hall (plus we'll even take care of the dirty dishes!), cabins for sleeping, and 1400 acres of natural beauty. You won't want to miss this!
This is a partner event with Girl Scouts Carolinas Peaks to Piedmont and Girl Scouts of Northern Illinois. Troops and girls with chaperones from other councils are also welcome, if within the guidelines of your council. You are responsible for ensuring that this program event meets the criteria of your council, before registering.
Explore this page for all the details on the event schedule, activities, accommodations and food, pricing, what to bring, the host site (YMCA Camp Greenville), and your event planner (Stacie).
Friday, November 8, 2019
Friday evening arrival, from 6:30-8:30 p.m.

Eat dinner before arriving.

No late check-ins will be allowed.

Optional evening hike, beginning at 7:30 p.m.
Saturday, November 9, 2019
Breakfast

Activity rotation 1

Lunch

Activity rotations 2 & 3

Dinner

Troop Time/Relaxing

Campfire
Sunday, November 10, 2019
Optional hike to Showerbath Falls

Breakfast

Activity rotation 4

Pack up and Hit the Road (by 11:00 a.m.)
Activities
Zipline
A minute's worth of flying. An unforgettable experience. Zip overtop Lake Rotary to your safe landing spot on the opposite shore. Hike back with a friend, and maybe even try it again!
Review the Safety Activity Checkpoints. [coming soon]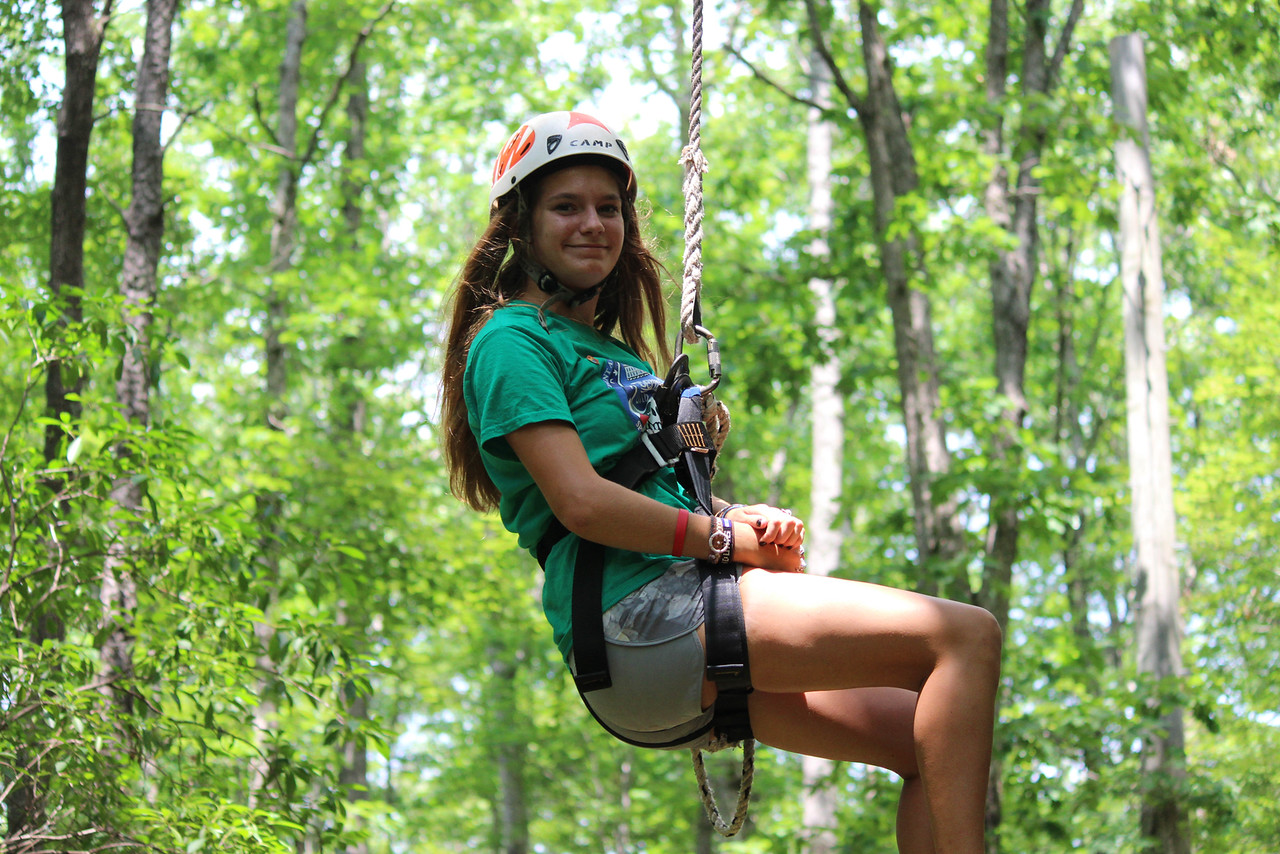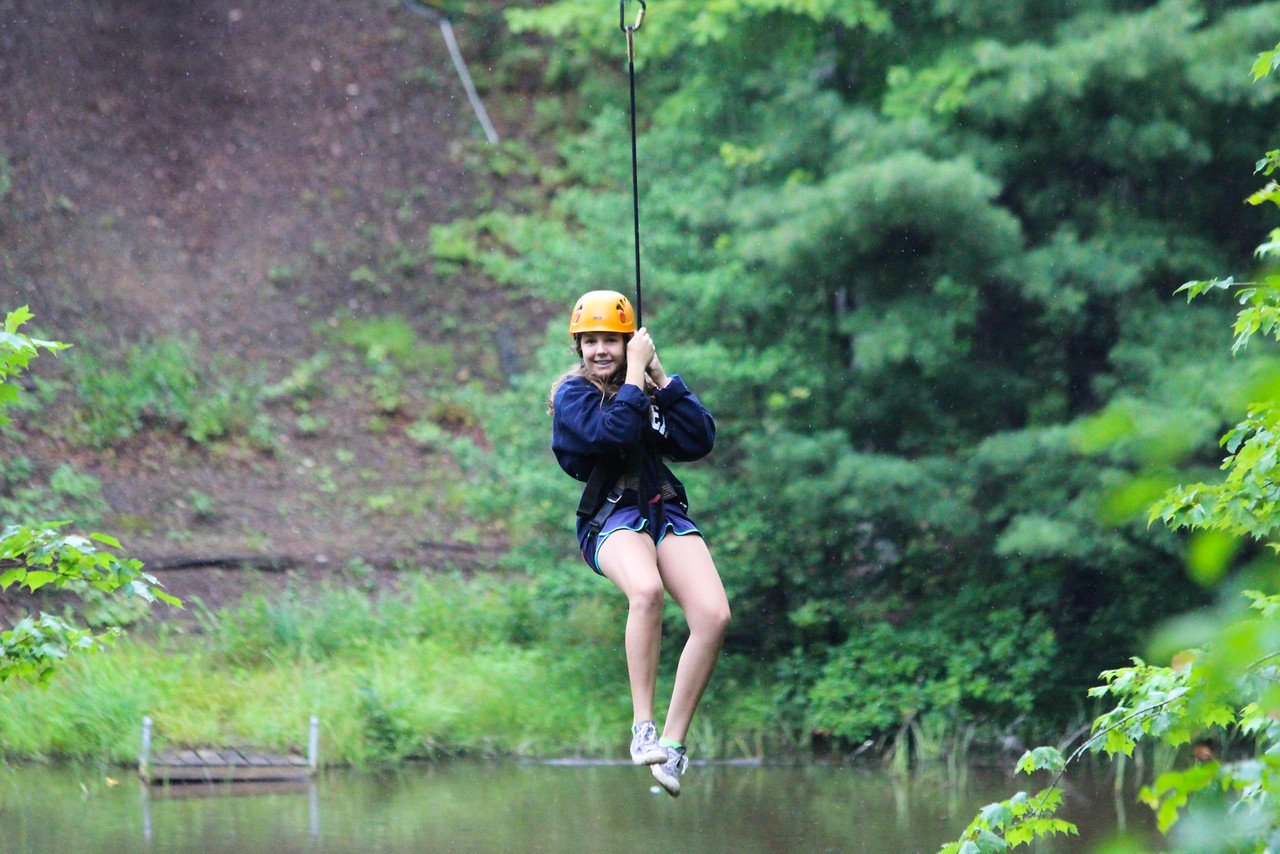 Rock Climbing Wall
The indoor climbing and bouldering walls are an excellent challenge and an unforgettable experience. On the climbing wall, girls are harnessed in and belayed by an instructor. While bouldering, they're free-climbing just a few feet off the ground from side-to-side, rather than straight up. (Adults will be needed to assist as spotters for bouldering.)
Review the Safety Activity Checkpoints. [coming soon]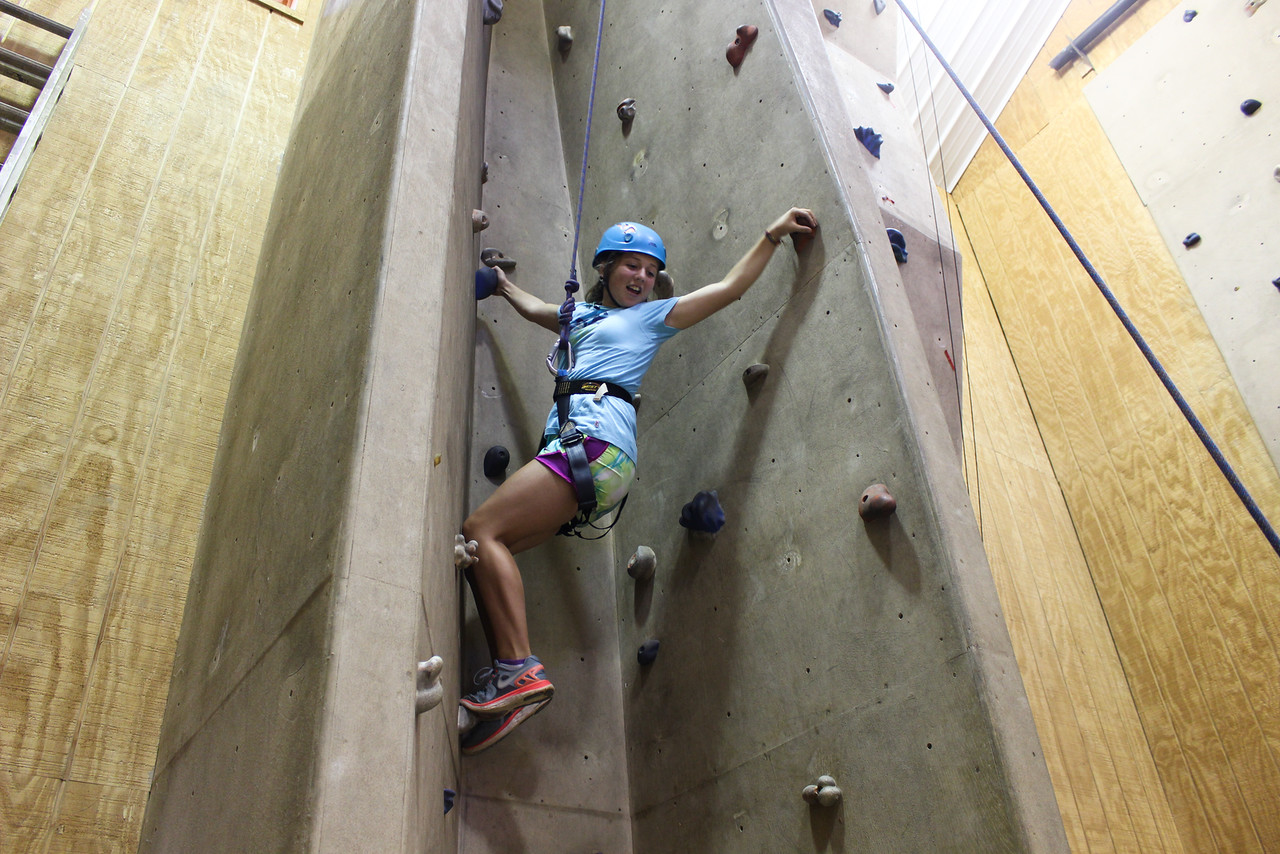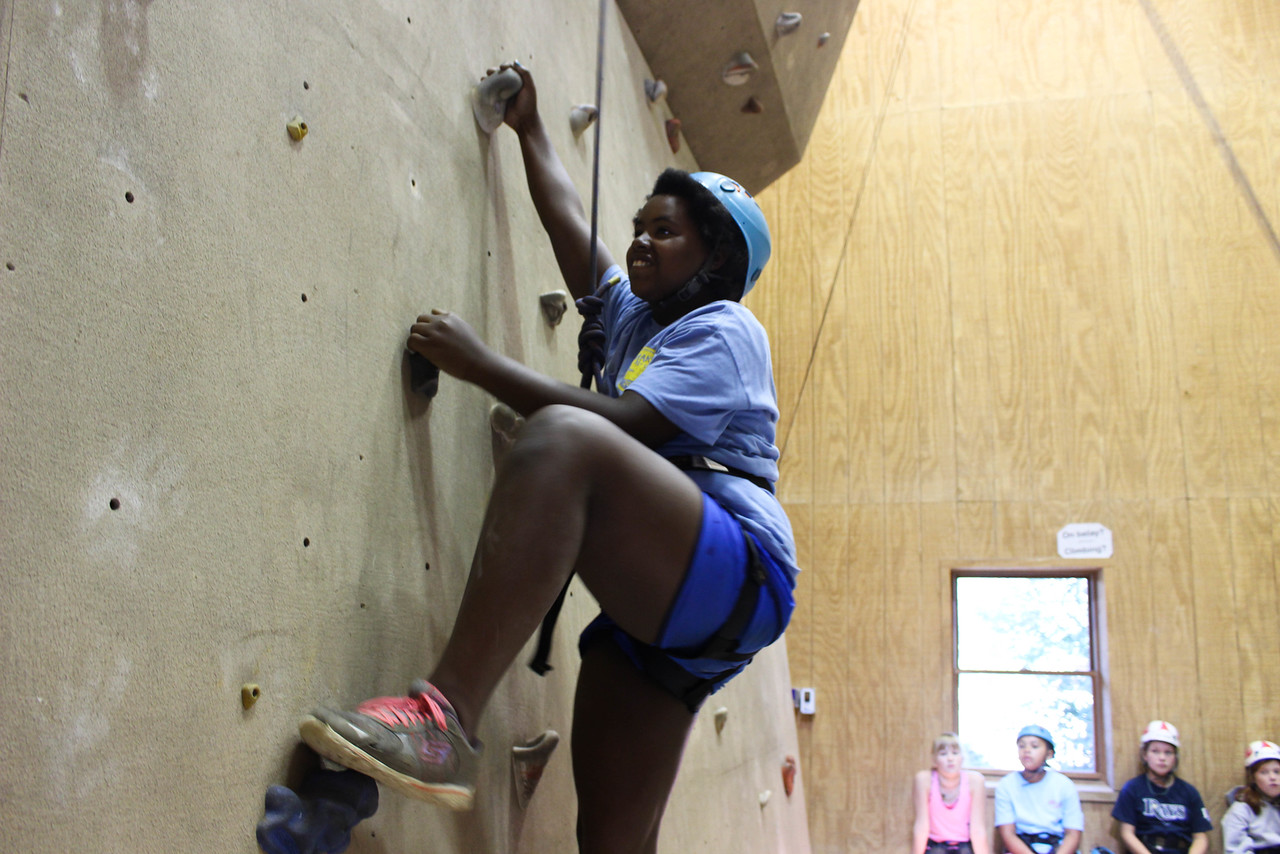 Hike to Rainbow Falls
Description and photos coming soon.
Review the Safety Activity Checkpoints. [coming soon]
Riflery
Description and photos coming soon.
Review the Safety Activity Checkpoints. [coming soon]
High Ropes Course
Face your fears head-on in a safe, unforgettable challenge. The high ropes courses hosts two levels of high adventure (15 feet and 40 feet) and over 17 elements. You'll be climbing, balancing, crawling, and sprawling your way through the high ropes course - with your friends cheering you on, from beginning to end.
Review the Safety Activity Checkpoints. [coming soon]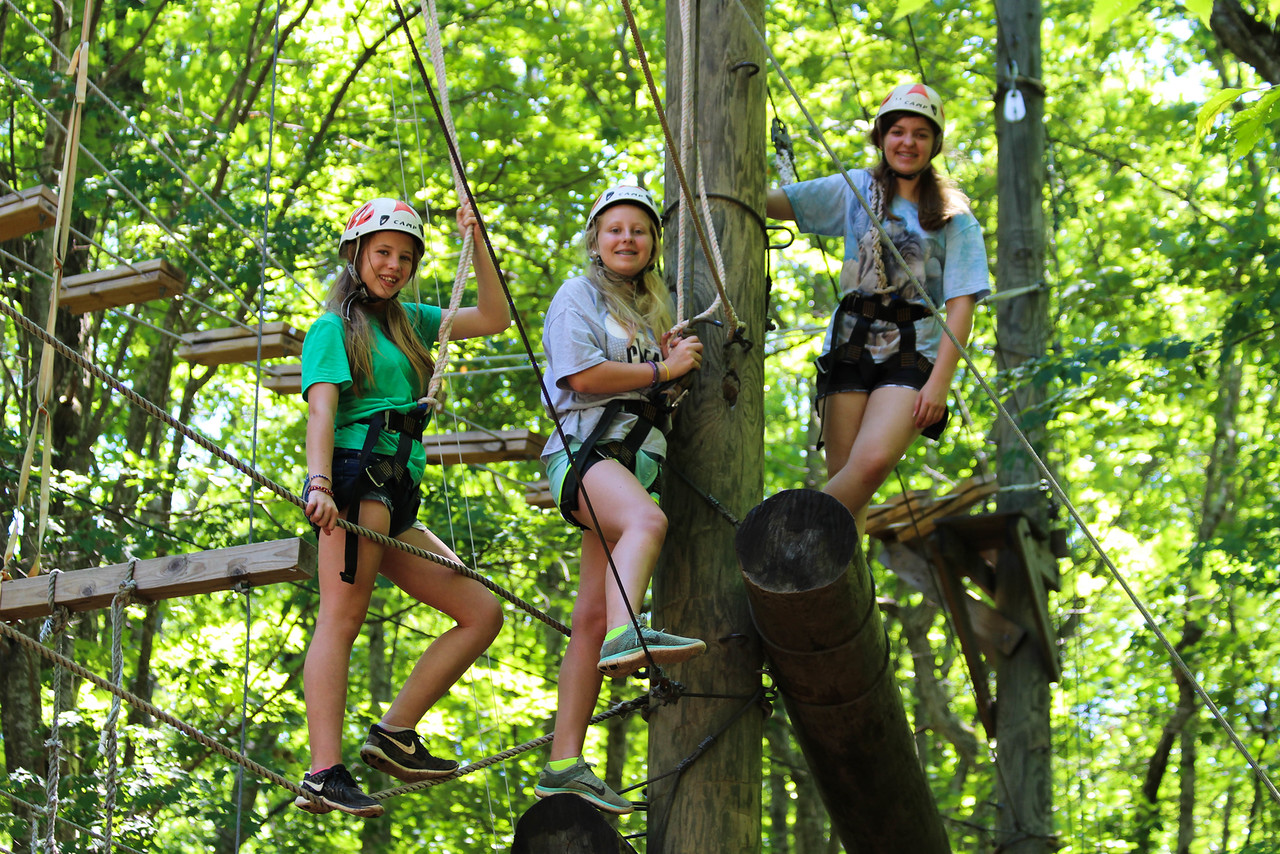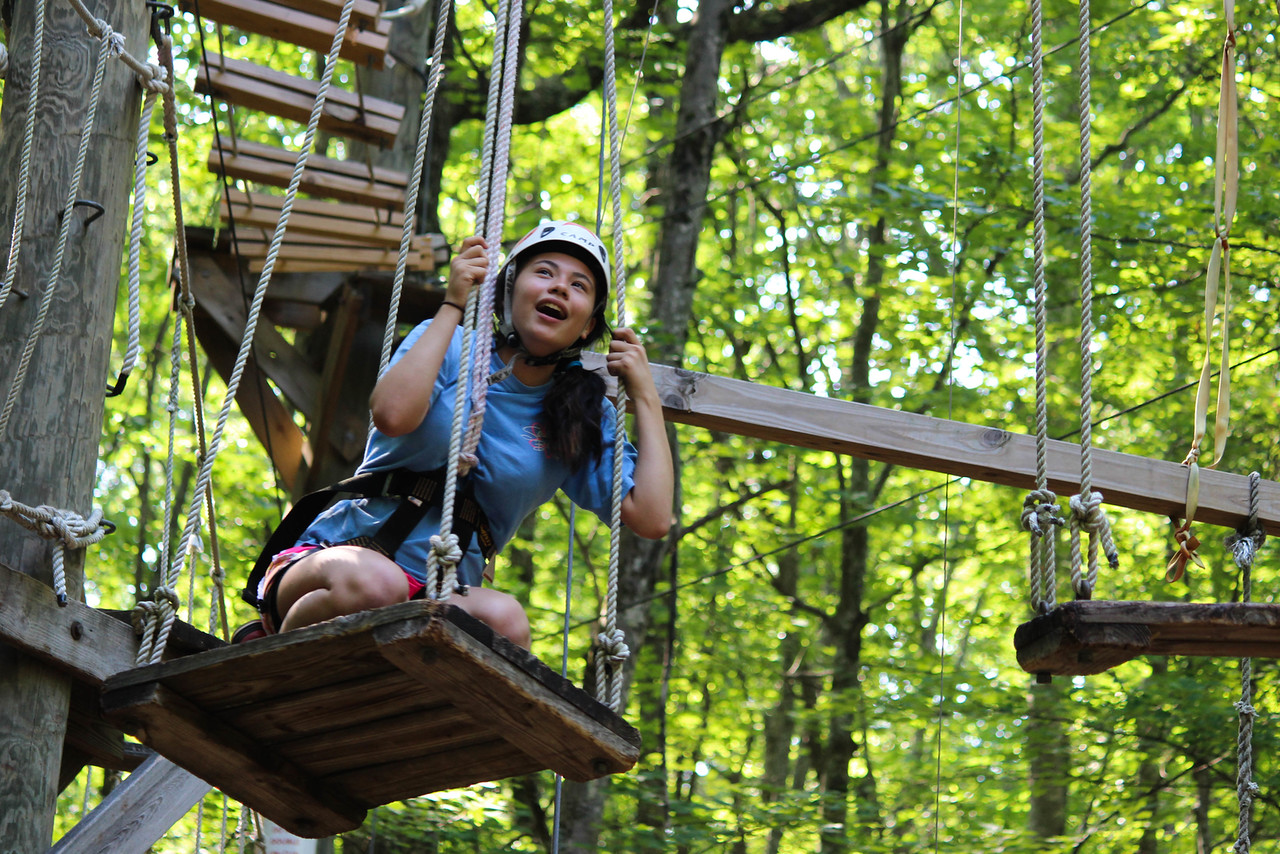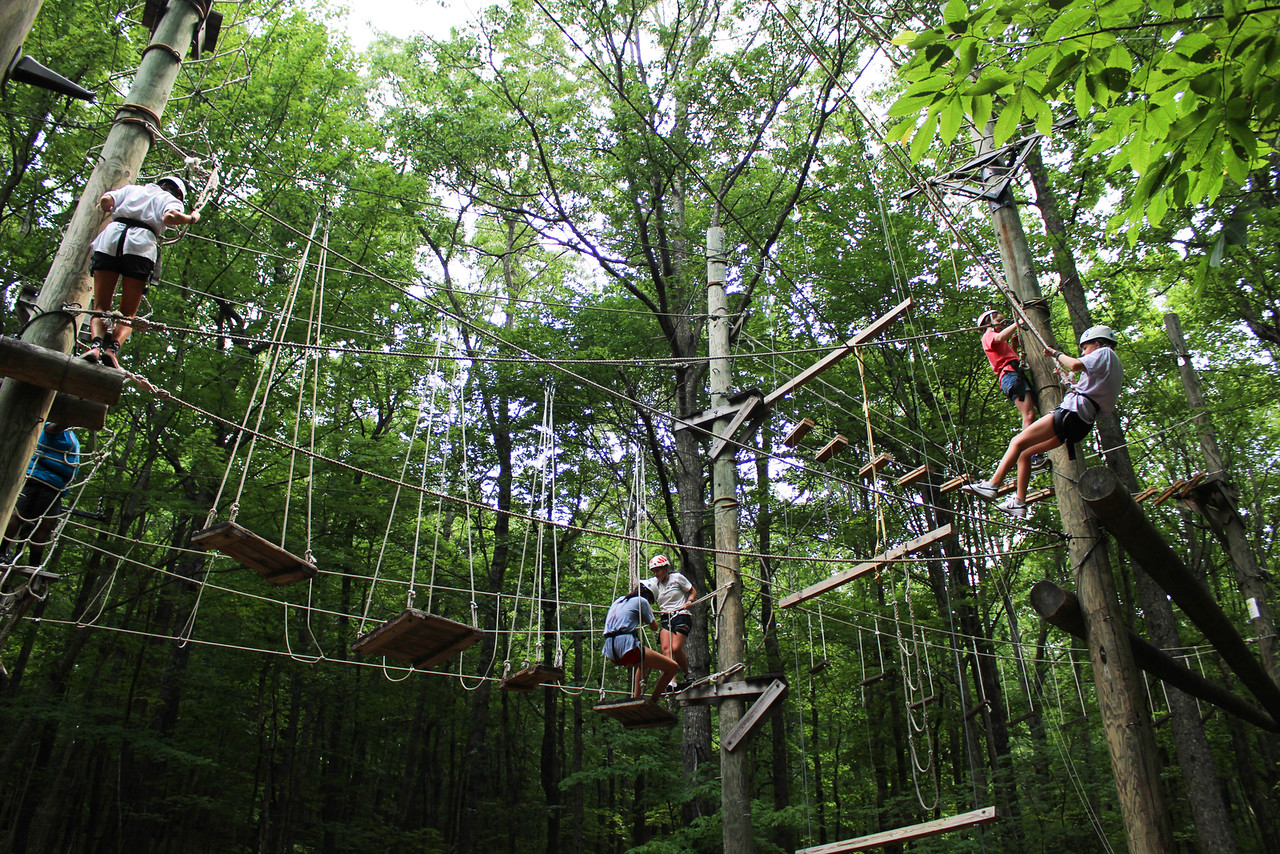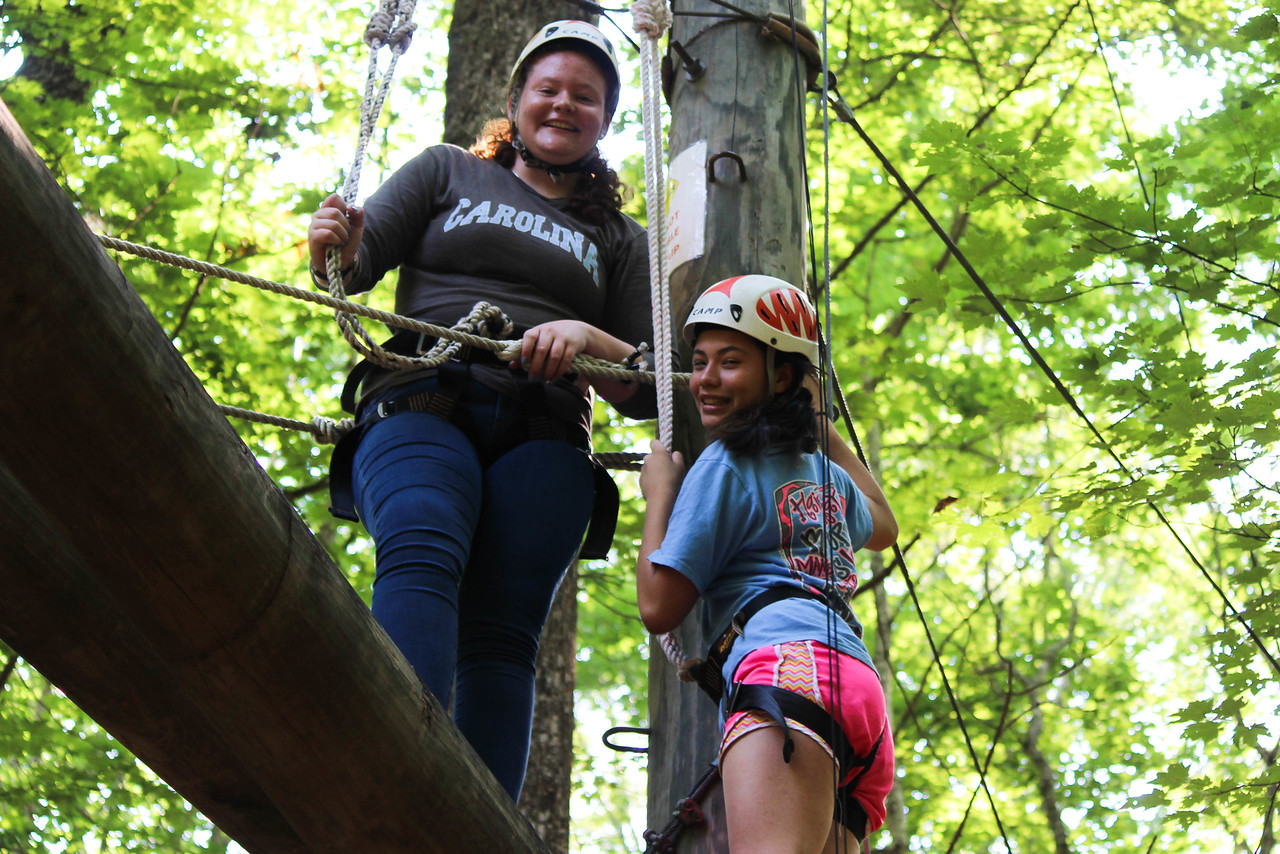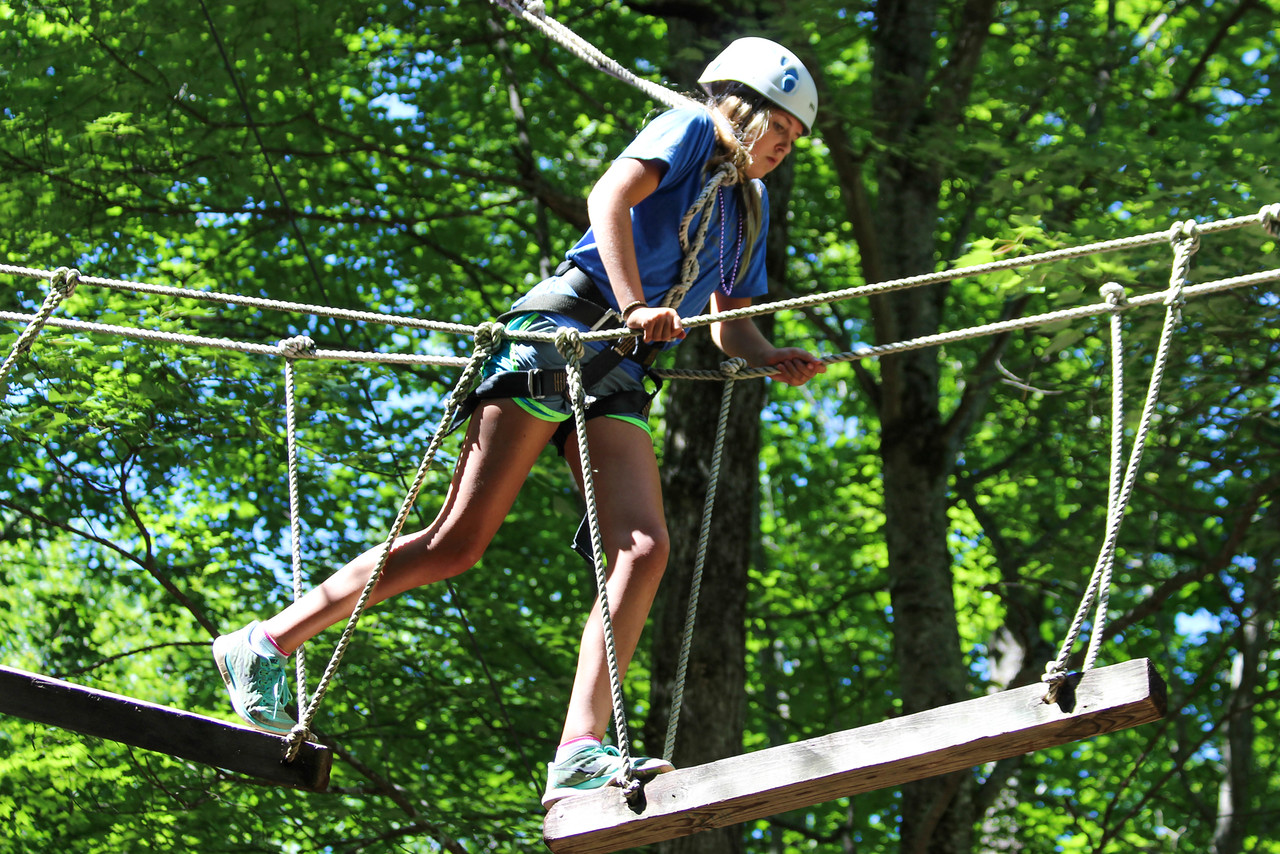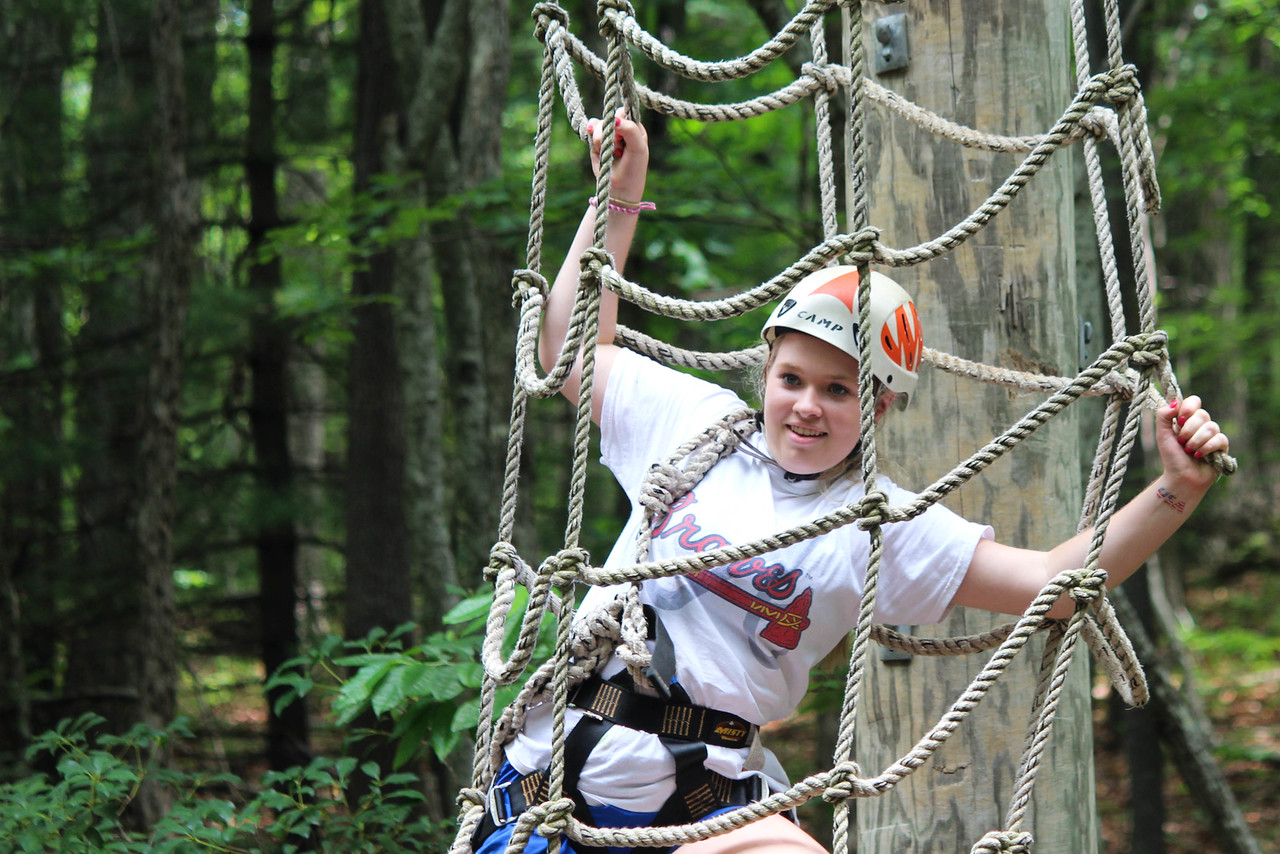 Evening Campfire
A camping trip wouldn't be complete without a campfire. We'll gather around, after a long day of activities, to unwind and enjoy each others company. Feel free to bring your own supplies for s'mores, if you wish.
Evening Hike to Pretty Place and/or The Powerlines
Two of the best views at camp! Depending on the weather and the time (and how much daylight is left), attendees who arrive early on Friday will have the chance to walk to Pretty Place and/or the Powerlines. Pretty Place is a gorgeous open-air chapel built right into the side of the mountain. You'll have panoramic views of the valley below. The Powerlines trail gives you a straight-shot view down toward the city.
Cabins & Food
Cabins
Sleeping cabins include bunk-style beds, and a small number of toilets, sinks, and showers. It's just what you need to unwind a little bit before bed. Troops and mom/daughter pairs will be assigned to a particular cabin prior to arrival, and the assignment will be confirmed upon arrival. You may be assigned to a cabin together with another group (or multiple groups), depending on troop sizes and ages. Every effort will be made to match you with troops/girls of the same age. Cabins are equipped with heat and A/C.
Food
The meals below will be provided for you. The camp dining hall can accommodate gluten-free, vegetarian, and vegan needs. Please indicate the number of people in your group needing this accommodation at the time of registration.
If someone in your group has other special dietary needs or if your group would prefer additional snacks, please pack accordingly.
SATURDAY BREAKFAST:
Pancakes

Bacon

Yogurt/Fruit Bar

Cereal

Water/Juice/Milk/Coffee
SATURDAY LUNCH:
Chicken Nuggets

Mac 'n' Cheese

Mixed Veggies

Salad/Fruit Bar

Water/Juice/Tea
SATURDAY DINNER:
Beef Stir Fry w/ Rice

Egg Rolls

Salad/Fruit Bar

Water/Juice/Tea

Cupcakes
SUNDAY BREAKFAST:
Scrambled Eggs

Biscuits/Gravy

Sausage

Yogurt/Fruit Bar

Cereal

Water/Juice/Milk/Coffee
Pricing & Registration
Registration is open for both troops/groups and individual registration.

If girls register as an individual, girls MUST be accompanied by an adult for the duration of the event.

Troops registering as a group must meet proper girl/adult ratio. To meet both Girl Scout ratios and YMCA Camp Greenville ratios, please use the following:

2 adults for every 12 girls, plus 1 adult for each additional 1-6 girls.

It is expected that all participants will be registered Girl Scout members with their local council at the time of event participation.
Girls - $129/girl, includes:
5 scheduled activities (zipline, rock wall climbing, rainbow falls hike, riflery, high ropes [all weather dependent])

4 meals in the Dining Hall

Overnight accommodations for 2 nights

2 optional hikes

Event patch
Adults - $99/adult, includes:
4 meals in the Dining Hall

Overnight accommodations for 2 nights

2 Optional hikes

Event patch

Opportunity to participate in activities with girls ONLY IF there is enough time, staffing, space, equipment, and materials after all girls in the group have participated fully.
When you're ready to register...
Make sure you have the following information prepared to complete the registration form:
Your name and contact information (the primary group contact)

Names and emails of additional contacts - adults who want to receive correspondence about the event

Number of girls, their first and last names, and their grades (as of Fall 2019)

Number of adults, and their first and last names

Food restrictions such as gluten-free, vegetarian, vegan

Other special needs, requests, or notes

The name and phone number of an emergency contact person who is NOT attending the event.

IMPORTANT NOTE: You need to add girl registrations and adult registrations to your cart as separate "items." The system will ask you to complete the form for each time. You only need to complete the details ONCE, but please complete every field, when you do.

If you would prefer to register by paper and mail a check, please contact Stacie via email at stacie@staciesimpsonconsulting.com or by phone [call or text] at 715-937-0415. Please note that registration spots are first-come, first-served and spots will not be held, waiting for paper registrations to arrive. Register as early as possible, if planning to register by paper/check.
Get to Know YMCA Camp Greenville (our host site)
For over 100 years Y Camp Greenville has been owned and operated by the YMCA of Greenville. At 1400 acres, Camp Greenville is the 5th largest Y Camp in the country. Its unique mountaintop setting and adventurous programs make for unforgettable experiences that provide a lifetime of memories. Four generations of families have called Camp Greenville home. Camp Greenville has 4 main offerings: summer camp, groups/retreats/events, school programs, and chapel rentals.
Explore more at www.campgreenville.org.
Get to Know Stacie (your event planner)
As a consultant and trainer for non-profits and camps, Stacie creates resources, tools, and opportunities for non-profit professionals and volunteers to accomplish their mission better, faster, smarter.
Stacie loves Girl Scouts, and loves camp and the outdoors. She has a degree in Youth Programming & Camp Management, a partial MBA in Leadership, 10 years experience as a professional Girl Scout at 5 different councils, plus experience as a Troop Leader, Camp Counselor, Delegate, Board Member, and Trainer. She earned her Gold Award in high school, and just celebrated her 25th year as a Girl Scout member.
Stacie is the creator and hostess of the All Things Girl Scouts podcast/blog.
Contact Stacie via email at stacie@staciesimpsonconsulting.com or by phone (call or text) at 715-937-0415.
F.A.Q.
What forms will we need to bring with us?
What if there's bad weather?
Some activities are weather-dependent. If we are unable to participate in one of the activities, due to weather concerns, another adventure activity will be offered in its place. In the event of severe weather, indoor activities will be offered. These substitutions are at the discretion of the camp administration. No refunds are given if alternate activities are offered.
Is there a patch?
Yes, there is! Everyone who attends - including adults - will receive a unique participation patch for the back of a girls' uniform (and anywhere adults collect patches).
Will this event help us toward earning any badges or Journeys?
You bet it will! Here's a list of awards that this experience can get you started toward:
Ambassadors
Ultimate Recreation Challenge

Snow or Climbing Adventure

Trail Adventure

Outdoor Journey
Seniors
Adventure Camper

Adventurer

Snow or Climbing Adventure

Trail Adventure

Outdoor Journey
Are t-shirts or souvenirs available?
The camp store will be open during select time periods. T-shirts, sweatshirts, stuffed animals, camp-style jewelry, and other keepsake items are popular. Items range in price from $5-$30. Cash, check, and credit card are all accepted.
What kind of wildlife can we expect to see at camp? Anything scary?
The most common wildlife you'll see are friendly deer, squirrels, birds, and spiders. Camp staff and visitors rarely see snakes, but they certainly live there, so wear close-toed shoes at all times. Bears also live nearby camp, but you probably won't have any visits from one.
Can men volunteer with our group?
Absolutely! We love guys who are "man enough to be a Girl Scout"! In fact, YMCA Camp Greenville's executive director, Cory, is a Girl Scout! They'll just need separate sleeping and bathroom accommodations, so please make a clear note on your registration form next to his name, so that we're sure to make the proper arrangements.
Can I write a check instead of paying online?
Sure! It actually saves us some processing fees too. If you would prefer to register by paper and mail a check, contact Stacie via email at stacie@staciesimpsonconsulting.com or by phone (call or text) at 715-937-0415. Please note that registration spots are first-come, first-served and spots will not be held, waiting for paper registrations to arrive.
Other details
YMCA Camp Greenville rules:
The possession or consumption of alcoholic beverages and illegal drugs by anyone at Camp is strictly forbidden.

Enter only buildings designated as your cabins or for your activities.

Cabin walls or furniture may not be written on.

Grounds should be kept litter free.

All waterfronts are off limits unless a water activity is specifically authorized, scheduled and supervised by Camp Greenville personnel.

All ropes center and group dynamics areas are off limits unless an activity is specifically authorized and supervised by Camp Greenville personnel.

For your safety, please stay away from any construction areas at Camp.

To help save energy, please keep cabin doors closed and lights off when not in use.

Firearms and weapons are not allowed on Camp property.

Smoking is not allowed in any facility or in the presence of students.
Responsibilities of Camp Greenville:
Program leadership and supplies.

Dining Hall food service (if scheduled).

All general cleaning and maintenance, other than cleaning responsibilities assigned to groups.

Guidance as to Camp Greenville rules of conduct, emergency procedures, and other information to group leader(s).

List of items to bring, program objectives, detailed program schedule, and housing unit assignments, capacities prior to outing.
Responsibilities of Stacie Simpson Consulting:
Manage scheduling, registration, payment, and logistics of the event.

Provide pre-event communication and resources to troop leaders.

Ensure logistics of event weekend are running smoothly.
Responsibilities of troop/group leaders:
Transportation to and from Camp Greenville, including in the event of an emergency.

Adequate supervision in the cabins is required with properly screened chaperones (all must be 18 or older and at least two years older than any minors they are supervising).

Supervision at all times, including nighttime coverage in cabins and during meals.

General cabin cleaning, monitoring meals and cleaning of tables in the Dining Hall.

Communication of Camp policies to group members.

Providing medical coverage, including First Aid and CPR, for the group. Groups must bring a First Aid kit.

Ensure compliance with your council's guidelines and procedures.
Photo Release - By registering for and participating in this event session, guardians give permission for Stacie Simpson or YMCA Camp Greenville to use, distribute, and publish, your and/or your child's name, picture, likeness and voice (including any video footage of the same), for any purpose (except defamatory) including any use for educational, advertising, non-commercial or commercial purposes in any manner or media whatsoever.
Refund Procedure - A full refund, including any deposits, is made only if an attendee cannot be placed in the selected program or training, or if it is necessary to cancel the event. No refunds will be made for those attending only a portion of an event or for those who fail to attend. See the full refund procedure on the Privacy & Terms of Use page.
Emergency and Medical - Your group, under the direction of the primary group contact, is responsible for its own emergency transportation, CPR, and first aid (including supplies). It is your responsibility to complete any trip, travel, or adventure activity paperwork that is required by your local council. YMCA Camp Greenville nor Stacie Simpson Consulting provide accident insurance. You must follow all of your council's guidelines in order to be covered by Girl Scout insurance (YMCA Camp Greenville nor Stacie Simpson take responsibility for ensuring you are within your council's guidelines). Any administration of medication will be performed by the primary group contact or their designee, but not by YMCA Camp Greenville or Stacie Simpson Consulting.